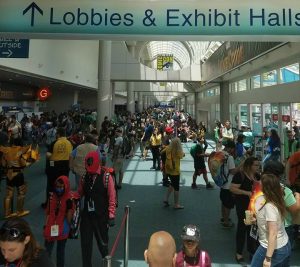 So, San Diego Comic Con 2016 has come and gone, everyone has packed up and left, and the dates for next year have already been announced. But, before we get too far off topic what did we think of our first Comic Con?
Well, like many things it could've been handled differently which would've made things more enjoyable, for example a bigger venue so that you're not getting pushed the entire time. Also add an age limit, because there are some kids that are way too young to be going to a convention.
Too many lotteries and not enough VIP experiences! Way too many things during SDCC relied on a lottery system, the HOTELS used a lottery system! You had to enter a lottery just to be able to get in line to buy vinyl figures! Now while it does make sense for the smaller booths that are selling things that would sell out in the first 30 minutes, it does not and should not be used for EVERY. SINGLE. THING. Photo ops could be sold under a VIP experience where you get maybe 2 or 3 minutes to meet your favorite celebrity.
So now that we've gotten the bad things out of the way let's move on to the panels, the majority of which were entertaining. For example, the Luke Cage panel was entertaining to be at for multiple reasons including the fan interaction and the reveal of not one, not two, but three teasers for Luke Cage, Iron Fist and The Defenders! Another example of an interesting panel would be the Comic Book Law School panel which taught us some very valuable things.
And finally The Exhibit Hall, there really isn't much to say about it because of how little time we really spent in it. The time we did spend in the Exhibit Hall, we were getting pushed out of the way because of the large crowds in the spaces that were too small to accommodate them, as well as the lines for the bigger booths like AMC, Fox, ABC, DC, and Marvel.
But overall we enjoyed the convention despite the pushing and shoving and the fact that they used a lottery system for everything, but the positive outweighs the negative, and this is our first impression which most likely means that after going to it repeatedly, we will be opened up to understanding it even more.